...ONTAY & MAROGONG.NET...







Giya Website tano na kunaba domadaorog ko kapapantagan a bitiyara ko politika sa Mindanao ago sa Pilimpinas, aya pamuntosan a website aya na so sumpad gowani o mga Mranao/Iranaon sa diron kalipati o kisalimbago a mga kagodaan

DI AKO MORO?

Iranon di ka moba
na ranao di ka moragis
ka ala andamanaya na
tawan tawan daa ped


a kipentindegen ami ko
ingaran na khadadag
ka aya izalimbago na
ilano a di kakal

a pimbabago a tema
a dimi pezinirigan
ka andang a miniropa
o manga solimbag i tig

na odi kapagimani
na khada so marawraw
ka khaalin so padoman
a asal a inigambar.

ka magonot ko pesamber
na khaarogan ko reges
ka iphagalin sa didaw
so songka-songka inambar
a sii miyakapoon
sa inged a KADARAAN..!

 

By Alvin Maruhom (BI)

 




  Dayamon sa Iranon a Romaruk a Tantaon a Dariday sa Bayabao a Lombay sa Dumagandar


madait na pangoyat na pangandag a kapupamamakinuga tano ko manga rinarinaoniyan na aya mala na so manga darangunian a kapagondoga manga oragis, kapuminoyod sa damoao ago kambatogun ipangoraw akun rukano a babae akun aya sa ilaya niyo sa Youtube so manga idaidaiyan sa basa darangen,

 

 


BAE TARHATA ALONTO-LUCMAN

first Muslim lady governor of Lanao del Sur


Princess Tarhata "Tata" Alonto Lucman is the first Muslim lady governor of Lanao del Sur, appointed in 1971. She is a member of one of the royal families of Maranao, she fought the Martial Rule of the deposed President Marcos. Known as Tata, she is better known as a rido (clan conflict) settler, noted in a TIME magazine article for helping the release of kidnapped nuns in Marawi City in 1986. From 2001, she has been leading the Muslim-dominated province of Lanao del Sur, the Autonomous Regional Government in Muslim Mindanao.

Early Life

Born into royalty among Ramain's Sultanates, Tata as a girl-child looked up to other pioneering Moro ladies like Princess Tarhata Kiram and Dayang Dayang Piandao of Sulu who were able to get educated and travel abroad and to the capital. Within her one year of schooling in her hometown, she was accelerated to grade 4 at the tender age of 6 years old.

The only English-speaking among the household, she acted as translator at the busy home of her father, Alauya Alonto , who was a religious leader and politician. Tata was reared in the world of politics. She assisted her father, who was "no read, no write" in his travels to Manila. This would be her training ground in the man's world. Constantly defying rules, Tata also didn't want to marry someone not her choice. She was constantly engaged by her family to men from Maranao buena pamilia , but she would break the betrothals . She would find that the constant visitor, mentor at her home would be interested in her. She soon married Sultan Al-Rashid Lucman.

 


AIMAN CAIRODEN
PANGANDA O MRANAO

 

MSU's First Muslim Summa cum Laude


 

Aiman Cairoden, son of a poor Maranaw widow, just wanted to have a college diploma so he can have a decent job and help send his five siblings to school.


 

Cairoden did not just receive a college diploma on Thursday (April 4), but also brought honor and fame to his home-province of Lanao del Sur for graduating summa cum laude from the state-run Mindanao State University's (MSU) 2013 Bachelor of Science in Biology class.


He is the first ever Moro student to achieve such feat since the creation of the University in 1961.

 

The MSU is the biggest government-owned university in Mindanao.


 

Cairoden, son of a Maranaw driver who died in a car accident two years ago, is an ethnic Maranaw from the first district of Lanao del Sur.


 

Since the university was created in 1961, all of its summa cum laude graduates were non-Muslims, mostly Visayans.


 

Cairoden's mother and siblings wept as he delivered his valedictory address before 1,926 graduates at the Dimaporo Gymnasium inside the MSU campus.


Cairoden was known in the MSU campus as a studious and frugal student, who spent his money wisely.

 

He has many Muslim and Christian friends from whom he borrowed science text books.


relatives said Cairoden is still uncertain if he would proceed to study medicine or immediately look for a job so he can help send his younger siblings to school.




 

-Philippine Star-




 



PAGAYAWAN A PANOROGANAN
BY AQUIL SARIP ANDOG


Pagayawan was named after the great Sultan Arobero, son of Borua, the sole son of Maradia Dikabologan who is son of Ameladin Macapundeg ko Ranao Ragat to Bae Daradat. Sultan Arobero, a very brave man in Unayan in which rainbows were always seen in his right side wherever he was angry. That was the reason perhaps of the existence of the term Pagayawan when he was called Datu a Pagayawan. His place was originally called Tatarikun or Tatarikan (Central Unayan) of his father Mebarong. He was the first ever crowned Sultan proclaimed by the 4th Sultan of Maguindanao after defeating the tonongs of Pulangi river. Sultan of Maguindanao had observed Arobero and Pagayawan equal to his kingdom in realm, power and valour. So, he let Arobero to settle Royal Sultanate symbolizing bravery and heroism and lately followed the Sultanate of Butig and Masiu. It was the Royal House of Pagayawan that first established in Ranao recognized by the Maguindanao Sultanate through its great ancestor (apo) Arobero. Now, Pagayawan is one of the original Panoroganan (Royal House) in Ranao particularly in Sedepan a Unayan (West Unayan)


The place was the center or capital in Sedepan a Unayan during the early times because of Ameladin Macapundeg who used to stay and live for the rest of his life that considered Pagayawan the father of Unayan as the strongest settlement. This must manifests that Pagayawan is relatively connected to other settlement in Unayan like Bayang, Tubaran, Binidayan, Ganasi, Malabang and Pualas.


Padas also a royal place where Datu Sandab, brother of Umpas, grandson of Sharif Alioden and Sharif Kabunsuan used to live that make the place Bebaya ko Taritib sa Ranao (member to Legislative Council of Ranao). That manifests how royal blood Pagayawan has. The place has a combination of bloodline from Sharifs because of Umpas and Sandab. The term Padas was baptized by Datu Sandab a Malay Datu from Johor which derived from famous river of Borneo near Kota of Sabah Malaysia. Padas is believed to be has strong connection with Butig because of Umpas and Sandab, in which Umpas was married to Datu Pendoma of Butig and Maupaat Sandab married to sister of Ameladin Macapundag.


Tatarikun the old name of Unayan/Pagayawan connotes variety of meanings. Other define as preserved it also derived from Arabic word Tariq means lalan or direction for the place is the easiest way of Unayan going down to Malabang. Datu Ameladin equally divided Unayan into three sub-territories namely East Unayan, Butig is its Capital, West Unayan, Padas is the Capital and the Ragat a Unayan (Peragaragatan a Tunday a Pagilidan) and Malabang is identified as the Capital.

GENEALOGY

Its genealogy/salsila could be safe to start to the chieftain of Unayan Ameladin Macapundeg ko Ranao Ragat. Ameladin first married to Potre Daradat, daughter of Paramata Angintabo and Sharif Kabunsuan. Ameladin and Daragat bore Maradia Dikabologan. Maradia married Dinambayunan daughter of Mudag sa Balabagan and got Borua his only son and the 9 Baes sisters of Borua 1. Angkini sa Tuabaran 2. Imoda sa Ganasi 3. Oyoda sa Madamba 4. Dadioba sa Biabi 5. Ayor sa Linindingan 6. Togon sa Kadingilan 7. Inkilan sa Beta 8. Dagook sa Lumbatan 9. Sanaolan sa Macadar ( Siran so siyaw a Liyaminan ko mga Bebay o Borua a kapenabiyaan sa dalma a Unayan.


Borua married Ugho daughter of Dimaalip to Duni of Buayan daughter of Raja Sirongan and got Membarong and Amidag. Membarong married Potre Nayo a daughter of Anta sa Tebok to Bae sa Condor and bore Sultan Arobero, Datu Imam Diwan and Bae Noron.


Sultan Arobero got Tatarikun (Padas, Tubaran or Central Unayan) now it is Pagayawan as his kawali. Diwan got the lower portion nearby lake Lanao Bayang where he can perform faith well because he was a very religious Datu. While Bae Noron was married to Datu Garang of Pikong, son of Aradi Balindong of Nago sa Pikong got Kapatagan. Pagayawan and Bayang are the panoroganan sa Sedepan a Unayan while Kapatagan (liaminan ko Noron) in Pagilidan.


Arobero first married to Mamolawan of Tebok and bore 1. Maruhom Sidec 2. Maruhom Sarip.


Maruhom Adel and Maruhom Datumaas were his sons from a royal bae of Binidayan to Andingoray daughter of Amana son of Sayawa.


Arobero married also to Olan Olan sa Wato and bore Maruhom Olama.Their children chose to establish their sultanate in Pagayawan at Wato.


Arobero had a daughter also Bae sa Pantaon from Bae a Labi sa Pantaon of Baloi who was married to Maruhom Sidic of Bayang and bore Maulana sa Bayang and Milupus sa Lumbatan


The four Maruhoms namely 1. Maruhom Sidic 2. Maruhom Adil 3. Maruhom Sarip 4. And Maruhom Datumaas are entitled of the Pagayawan Sultanate in alternate or idal. The sultanate line is from the 4 Maruhoms that could assume the position. Maruhom Kali could assume Cali sa Pagayawan.
PANANAROON
"Obarakat so inguda matag sialindawan o lalaug a damada na ayapen di barakat a Unayan a kiaunayan ko bangsa a tonaya mindamdag a muna panagayan a pagayawan e bantog ago muna tanda sa Ranao" ka sabap ko Pagayawan
---
The last comments on this page:
Comment posted by anwarudin sambuto,

10/20/2013 at 10:04am (UTC)

:
I would like to correct datu quraish about sultan sambuto and sultan mangelen......for the information the first sultan of talik is sultan mangelen the father of sultan sambuto....then sultan sambuto became second sltan of talik...the battle of talik a domain of sultan sambuto somewhere in the south of now modern day marbel between datu ali of salunayan and sultan sambuto wherein sultan sambuto was defeated the ssultan of talik sultan sambuto move his domain to koronadal and establish his sultanate and became the first sultan of koronadal...after the death of sultan sambuto in 1926 he was succeeded b his eldest son sultan Jainal Abidin the second sultan of koronadal after the death of sultan Jainal abidin in 1943 his younger brother and younger son of sultan sambuto sultan Ebrahim of Palian succeeded sultan Jainal abidinSltan Ebrahim became third sultan of koronadal and after the death of sultan Ebrahim of palian he was succeeded by his niece Sultan Otto Abidin son of Sltan Jainal Abidin and after the death of sultan Otto Abidin no succeesor to the throned and it is vacant and ready for application.....who is willing.......????????
---
Comment posted by anwarudin sambuto,

10/09/2013 at 2:39pm (UTC)

:
Sultanate ay wala ng power sa ngaun history na lng.. mag pa ganon pa man still we continue to tell our lineage just to recall the achievement and fall of our ancestor....

---
Comment posted by Datu Quraish T. Langcap,

10/09/2013 at 12:43am (UTC)

:
I want to continue my Genealogy
---
Comment posted by Sultan Mhd Fahad Alonto Santican,

09/01/2013 at 4:40am (UTC)

:
Suggestive correction:
1] Sanaolan of Dagook who was married to Alnao got Andan & Ombon
2] Andonga of Macadar married to Akhong of Maging got Mardan-Sultan of Macadar & Bolawan-Bai sa Macadar
3] Marohom Adel is the son of Arobero with Mamolawan sa T'bok, who was married to Apipah grand daughter of Olok of Ramain got Saroddin, Dumak & Andar.
---
Comment posted by Quraish Bansil Langcap,

12/12/2012 at 2:43pm (UTC)

:
I just want to publish our family genealogy.

I am Datu Quraish, son of Datu langcap and Bai Salama.

Datu Langcap is sin of datu Dading, Datu Dading is son of Rajah Muda taluso, younger brother of Rajah Buayan kindat and an elder brother of Sultan matagmama, Sultan sa Barungis. Rajahmuda talusub marrie3d to a Bai of Binembalanen, younger sister of Singon. Singon was son of Gandawali from Pinguiaman. Datu Dading Married to Bai Dampay daughter of datu Pangilamen first cousin of Sultan Sambuto of Talik both mother and father. Datu pangilamen is son of Rajahmuda Padasan and later became Sultan sa Labu. Padasan is brother of Bai Padsiguian, the mother of Sultan Samboto of Koronadal. Datu pangilamen's mother is bai Muntia, younger sister of Sultan Mangelen of Talik. Dampay's mother is Bai Mampay, daughter of Bai Ampay, daughter of Rajahbuayan Pigkaulan of Baguinged. Mampay is first cousin of Datu Utto of Buayan.

Quraish's mother is Bai Salamah, daughter of Datu Akoy son of Rajahmuda Bansil son of Rajahmuda/Sultan padasan of Labu. Mother of Bai Salama is Bai Umbos daughter of Sultan lipoles of Laguilayan.
---
Comment posted by Hyperman,

11/12/2012 at 6:22am (UTC)

:
To the Admins, Sanggibo salamat rukanu sa kyambaalin nyo sa website aya.. Very informative..



Sana may karugtong ang darangen.. hehe

keep it up.
---
Comment posted by Muslimen D. Macabanding,

01/19/2012 at 3:09pm (UTC)

:
Salam ko langon a Moriatao Pagayawan. So Bansao na isa ko mga wata o Sultan Arobero ko Olan a wata o Maruhom Cahar sa Wato. So Bansao a Bae sa Unayan na piangaroma o Paki a watao Alagad ko Bae sa Linindingan na mimbawata siran na so (1) Beruar (Maupaat Salam), (2) Kayoga (Maupaat Sidik (3) Sinangkadan (Datu sa Unayan) 4. Raupan (Watamama sa Pagayawan) agoso (5) Katri( Bae sa Unayan). Sii ako ko Datu sa Unayan. Samanaya iphag encode akn so Salsila sa Pagayawan. Sobra 300 ka pages a miniprint aknon. Totokawa tano ka an makapamagomana so katawi o omani isa ruktano ko gogodan sa Pagayawan.
---
Comment posted by MAGAYON DARIMBANG,

12/19/2011 at 2:15pm (UTC)

:
So Dadiyoba sa Biabi na aya karomaniyan na so Makalao sa Maguindanao na mga wata iran so Gamad ago Gombaye sa Binidayan, na so Gamad na panogangan o Maruhom Ameroden sa Bayang
---
Comment posted by Sultan Mhd Fahad Alonto Santican,

12/19/2011 at 8:18am (UTC)

:
Da watao Sultan Arobero a Marohom Kali. So Marohom Seddek na pagario Danding ago so Potre, manga apo o Arobero sa Wato ka watao Marohom Olama ko Dayangoray sa Biabe a watao Dadioba sii ko Macatampa a Sultan sa Kapay
---
Comment posted by anwar sambuto,

12/05/2011 at 4:46am (UTC)

:
sultan of talik is Magelin in maguindanawon. his son to Bai Padsigyan is Sultan buto sa talik or sambuto
---
Comment posted by Alex,

11/09/2011 at 12:23am (UTC)

:
adun a mini bugay rukami a salsila a Pagayawan na dapun mipost ka gii punayaon so mga pud a portion a salsila anan sa Pagayawan
---
Comment posted by Sultan Mhd Fahad Alonto B. Santican,

10/31/2011 at 11:01am (UTC)

:
Osa ikapipiyao pagari akun na
adna maito a correction aken.
Aya mga watao Mamolawan sa t'bok na tlo katao; 1) Marohom Shariff, 2) Marohom Adel & Bai sa Madang (da babad iyan ka da initangkap yan. Aya watao Olan sa Wato na tlo mambo; 1) Marohom Olama, 2) Bondayo (Bai sa Pagayawan & wife of Balindong sa Ganassi & 3) Bansao (Bai sa Unayan) na aya apoy Mandangan Dimakuta.
Aya watao Adingoray na isabo ka so Marohom Datumaas a miakapangaroma ko Bai sa Kuba a watao Garang ko Noron.
Ikapata karomao Sultan Arobero na so Bai sa Pantaon na adna mga wata iran mambo.

Ikadowa correction akena so origin of Pagayawan. Adna pungumao a mga 7 carabaos in kakar river na kiporo so twak ka pakapanik sa walay ka mga GENE. So kaia ikti Sultan Arobero ko Datu irana Sinaguntlay panga ka Binaning sa Poro lagido bolawan na kiaptanian sa panga na tikus iyan na tinindugana Pagayaw sa mbala a waga si Arobero lagid mambo o panga. So kiailayaon
Sultan Kawasa na piaki dulog yan sa Tatarikun si Arobero a pat polo a mama na tatangkongun. tiondogo Sultan Kawasa so Datu Arobero
sa Tatarikun na peroklem yana Sultan sa Pagayawan. Bali Bitowan niyan so Sudupana Unayan sa Pagayawan.
Ikatlo a correction akuna so Tatarikun. The origin of Tatarikun. So Sultan Mangurun a miaona Sultan sa Talik (now Koronadal) na wata iyan so Potre Baladia a miapangaromao Datu Balbal Mudag sa Balabagan na mimbawata siran so Genambai odi na Dinambayanun a miapangaromao Maradia Dekabolodan, inao Datu Borowa, para dikalipatan so ingudo apo iran na betowan sa
Tatarikun so Darpao Borowa.
---
Comment posted by Muslimen Macabanding,

08/19/2011 at 5:57am (UTC)

:
Salam ruka pagariko a Ontay. Kialipatanon mambo so Bansao a isa mambo ko tlo katao a wata o Sultan Arobero ko Olan.
---
Comment posted by Admin,

01/11/2011 at 9:12pm (UTC)

:
Kialipatanon so Bondayo a wata o Pagawayan a Babay
---
Add comment to this page:


THE ORATION PRAYER
The oration was finished at hood, Friday, the 29th of Rabi-el-Akhir, in the year 1331 Hejira.
In the name of Allah the Compassionate and Merciful. Allah is greatest. Allah is exalted. He is the Master of the World and the King of the Universe who rules with conquering power. Invisible to the eye. He is visible through His power and might. His is all the power and glory. His is all kindness and glory. He is the Almighty and the Ruler of All. He is everlasting and never dies.
There is no God but Him. Everything vanishes but the face of God. He is our Governor, and to Him all shall return. Before Him the learned men are humiliated; and the mighty humble them in His presence. All the prophets have spoken of His Lordship; and all the men of old have borne witness to His unity. All the men of learning have spoken of His eternal being.
The wise men are unable to give an adequate description of His attributes. All that is in the earth and the heavens acknowledge His worship, and praise Him day and night without ceasing. Allah is greatest. He is the Lord of Lords and the Liberator of the World. He inspired the Book and commands the clouds. He overcomes all difficulties. He is the Cause of all Causes. He opens all doors and answers all who call Him. The Lord has said, "Call Me, and I shall answer you. All who despise my worship shall enter hell." Allah is almighty.
All the heavens praise Him, The sandy deserts, the shades and all darkness, on the right and on the left, praise Him morning and night. There is nothing that does not sing His praises; but you can not understand their praises. Oh, how kind and forgiving He is! Allah is almighty. All the angels praise Him. The heavens, the earth, the mountains and hills, and all the birds praise Him. Praise and glory is to Thee, Lord. Thou art the Lord of Indescribable Might and Honor. Peace be to the Muslim missionaries in our land, and praise to God, the Lord of the Universe
AMEEN YA ALLAH
MIPHASA SA KADATU



SALSILA BOOK
The royal sultan and all leading datus possessed salsila which were jealously guarded and formerly protected from prying eyes. Sometime for a reason to be explained later, they were even with held from persons claiming relationship to the royal family. Such royal salsila are distinguishable from other relatives' salsila where descent is traced to a prominent Muslim who is claimed to have been one of the first to introduce Islam to the area. Such a Salsila confers prestige on its owners, a situation however, not entirely devoid of possible political implications.
Royal salsila, to which this discussion is confined, usually have at least tow things in common, the first is a genealogical account where sometime the sultans who reigned are specified as such. Second is as assertion that the descent is from Prophet Muhammad SAW through a Sharif who had come to the Philippine and established a dynasty. Some salsila go further than these: they established relationship between local dynasty and the great empires which had earlier flourished in Brunei, Malaysia and other parts,
Ontay – is the childhood name of the website author, short of Mamaontay, mispronounced and corrupt form of MAMARONTAY the Mranao term for SLASHER, his parents named him Mamaontay, ancestor in Watu and the name of the famous lawyer in Marantao, Atty Mamao.
Marogong – is the ancient name of Unayan Pangampong, one of the 4 four based lake emirates sultanates of Ranao. Pat a Phangampong ko Ranao. It is believed that all Maranao/Iranun are connected in Marogong which is Unayan in the present where the Sharif's first landed .
Marogong municipality is named by optimistic and dedicated leader Sultan Abdulmadid P. Maruhom, to let Marogong exist and not to forget by the next generation. Marogong is the home town of the author, he is the grandson of Sultan Abdulmadid first sultan of Marogong and late Panondiongan sa Binidayan, graduated Mayor of Marogong, Tubaran and Binidayan.
__________________________ ONTAY & MAROGONG.NET Acmaly88.de.tl has the potential to earn $132,950 USD in advertisement revenue per year. If the site was up for sale, it would be worth approximately
Dayamon sa Iranon a Romaruk a Tantaon a Dariday sa Bayabao a Lombay sa Dumagandar

madait na pangoyat na pangandag a kapupamamakinuga tano ko manga rinarinaoniyan na aya mala na so manga darangunian a kapagondoga manga oragis, kapuminoyod sa damoao ago kambatogun ipangoraw akun rukano a babae akun aya sa ilaya niyo sa Youtube so manga idaidaiyan sa basa darangen,

Please Support the BWBFAMILY BAND for their new songs and album in 2016, some of their song written by Datu Ontay
MARANAO PRIDE...
PMA yielding first ever Muslim baron... PMA Brigade Commander..

MARAWI CITY – The Philippine Military Academy (PMA) is producing for the first time a Muslim baron and First PMA Brigade Commander belonging to the Maranao tribe of Lanao, relatives of the prospected Chief-of-Staff saber awardee announced lately.

The record-breaking Muslim youth is named as Cadet First Class Johnny Marohombsar III who, according to PMA officials and his relatives, will receive the academy's Class 2017 prestigious saber on their graduation rite this March 20 from President Duterte, who has Maranao blood by his maternal grandmother lineage.

President Duterte visited the academy last Saturday and drew the assurance of the Class 2017 cadets to uphold high discipline and support the government thrusts against crimes, insurgency and terrorism.

The Chief Executive will return to the academy to award the Chief of Staff saber to cadet Marohombsar during the PMA Class 2017 graduation rites this coming March 20, said the baron's grand uncle, Robert Maulana Marohombsar Alonto.

"This is the first in the history of this country that a President of M'ranaw blood will award the Chief of Staff Saber to a M'ranaw cadet, Cadet Johnny Marohombsar III who is both Baron and the present Brigade Commander," Alonto said in a recent post in the Facebook.

The baron is, on his father side, the great grandson of the late Marohombsar clan patriarch, retired General Louis Marohombsar, first of the two Muslim s produced by the PMA in the 1930s.The other pioneer Muslim PMA graduate was the late Ambassador Pulong Arpa of Sulu), Alonto said.

He is the only Marohombsar clan member to follow the footsteps of family patriarch, Gen. Marohombsar, who was a veteran of the "Death March" in Bataan and former governor of the undivided Lanao Province, Alonto said

The top PMA cadet is the grandson of top Maranao lawyer Johnny Marombobsar, brother of late former Mindanao State University (MSU) system president Dr. Emily Marohombsar.

On his maternal side, the top Muslim PMAer is the great grandson of the late Lanao Sur Congressman Paramount Sultan Haroun al-Rashid Lucman, husband of Princess Tarhata Alonto, the first lady governor of the same province.

News about the Muslim PMA baron went viral in the social media, drawing praises from friends and relatives, who all promised to put up a grand celebration here for his homecoming after the March 20 PMA 2017 graduation rite. Source FB Trending
Inged ko a Marawi
a Dansalan o Pagingud
na gokaini ndapanas
a sukaman so ingud ko
a lininding a gagao
a inalad a rangkono

inokaya kasawang
a goka pakasondong
ko malawanda e lalag
a salindagao e tangga
a kanaasan e gabun

liwanag ka marawi
na ilangas ka dansalan
ka kada a raban akun
o disinang sa magaan
ka milubog so pagingud

na daa kapanarigan ta
a bunara mati ayon
ka langon rarag so datu
ka bakadun pitaodan
sa kabukararab ka
ko pumbogabong a apoy

ka kagiya so sarowang
na daman a ranoniran
ko dansalan o muranao
ka bangaka royod sa tindug
e nguna a mararabka ka

angka makadapanas

ko lagid ka a inged

<![endif]-->
Our purpose of doing this task is to strengthening the bangsa moro nation. To fulfill our forefather dreams of having a meaningful bangsa moro identity in our mother land, to make our fellow Muslim understand the importance of having solidarity and closeness among us, to avoid discrimination and minimize feudal clan among us, so that we are nation with a purpose

Manga bangsa mi ko pat a adel a gaus ko Ranao, ago sa pragatan a tunday a pagilidan. Aya kiataonga mi sa darpa aya na ogop ago panagontaman sa kapakamoayan o andang a di kanggiginawai o manga lokes tano, na obaon misabap a mapakarayag iyan so miakalogao a di kanggiginawai, na mapakarani nian so miakawatan a katotonganaya,

Aya kiapamagosaya mi saya ko manga gogodan na ipagogop ko thatanggisa sa kakunala nian ko madaseg iyan a miapakawatan o politika, na aya mala na makaogop sa kapakaito o rido ko orian o katokawi ko kaiisa isa o manga apoapoan tano na mikasoy so munang a inagao o manga sarowang a tao,

Giyangkai a kapamagosaya saya ko kaiisa isa o bangsa na aya hadap saya na ipagogop ko kakunala sa so manga muslim sa Pilimpinas na isa a paka poonian, banian magakot so kaiisa isa o bangsa sa kipamayandegen ko kabnar o bangsa tano, na aya mala na mapamola rektano so babaya tano ko ped tano, ka pitharo o Nabi Mohammad S.A.W. a diden maka paratiyaya so pithanggisa rekano taman sa dinian ikababaya ko pagarinian so lagid o ipukababaya iyan sa ginawa nian.

PATOT A KAMBANTAI SAYA isaini a pamagogopaan o manga datu tanu sa Marawi sa ditanto kitabolog o manga simukut sa City a Marawi
This website is owned by Datu Ontay M. Abdulmadid and his home town Marogong Lanao del sur, and dedicated to all people of Unayan, and it is now consider as Iranaon (Mranao) royal website, most articles made in this website is originally from the research and ideas of our webmasters, Saad, Alex and Datu Ontay, some articles are submitted to us by a friends. We never copied other website articles without asking permission to the site owner, and we stated the source of our articles for the legitimacy of our articles.
All materials contained in this website are the subject of copyright. Many items and articles are in use under license, therefore, on no account may copies be made of text, photographs, Graphics, or any other materials, without the express written consent of the site owner,
If you wish to copy any items from this site, please be kind enough to e-mail the site owner at the address given above. Please also note that by entering any further pages of this site, you are undertaking to abide by these conditions.Thank you for your co-operation and consideration.
o(*_*)o

YOURS DATU ONTAY

 




SARIMANOK
The Sarimanok is a legendary bird of the Maranao people who originate from Mindanao, a major island in the Philippines. It comes from the words "sari" and "manok." "Sari" means cloth or garment, which is generally of assorted colors.  Manòk is a Philippine word for chicken.

It is the legendary bird that has become a ubiquitous symbol of Maranao art. It is depicted as a fowl with colorful wings and feathered tail, holding a fish on its beak or talons. The head is profusely decorated with scroll, leaf, and spiral motifs. It is said to be a symbol of good fortune
The Sarimanok is derived from a totem bird of the Maranao people, called Itotoro. According to the Maranao people, the Itotoro is a medium to the spirit world via its unseen twin spirit bird called Inikadowa.
The Sarimanok is also believed to have originated from an Islamic legend. According to the legend, Muhammad found a rooster in the first of the seven heavens. The bird was so large its crest touched the second heaven. Its crow roused every living creature except man. Judgement day would come once this celestial rooster ceased to crow
A Maranao legend also says of a Sultan's daughter being swept by a colorful rooster that became a handsome young man and they were never seen ever again. The Sultan then created replicas of the bird to remember his daughter by
POTRE MONALINDAO

Madait a kapumbantoe tano ko manga ONOR sa Ranao na ipangorao ami rukano si Potre Monalindao a bangsatano sa Ranao kaisa sukaniyan a mitiardi na mimbilingatao ko kapusumpada ko dadabitan o Iranaon na mananagontaman ko gii kisariat'n ko dikakulas o paparangayan o Mranao (We recommend Potre Monalindao for any traditional occasions in Ranao and for royal gathering)   

_______________________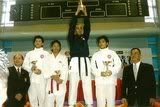 DATU REVIE S. SANI
Iranaon's Pride
Iranaons/Maranao are well-known for the aspects of Culture and arts, they gained more prominence in the field of martial arts when the MSU Karate Club successfully garnered three gold Medals and one silver in the 1994 first Philippine National Games – the first time Iranaon/Maranao gained these elusive awards in sports, and up to the present time the club still gaining good records.
In the name of Sport and Martial Arts, Iranaons/Maranao exceed on it and became more and more prominences when the young prince of Marawi in the good name of Datu Revie Saber Sani (son of Sultan Duma S. Sani and grandson of late Mamitua Saber, Radiamuda sa Marawi) won Champion in the international karate competitions like the 2003 8th karate games of the Adriatic in Italy, 2003 8th Czech open karate championship in Czech Republic, 2005 Asian Karate championship in Hong-Kong, China and the 23rd South East Asian Games (SEAGAMES). Datu Revie S. Sani is the first Iranaon/Maranao became member of Republic of the Philippine Team (RP-TEAM) for International Competition in the field of Karatedo, and present President of FIMAA Jeddah Saudi Arabia. The Iranaons/Maranao. would someday proven champion in the prestigious of the Olympics as my father's longstanding dream, Datu Revie said in his Interview.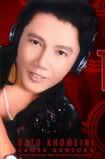 Pamakot Ka Sa Masa Emanto
A Song of a Moro Artist
The King of Moro Song Datu Komeni Bansuan lunched his new album with the new song "Pamakot Ka". It could really encourage and inspire each individual who would listen and internalize its deep meaning. Some of its line go this way " My friend, pamakot ka, know yourself. Pamakot ka while you are young. Know what is happening in this world and think of what you can do. Pamakot ka while still you are healthy and strong. Face your future, don't ever think you cannot make for God has given you all. Isn't he right in saying this so?
At this point of time, in this era of globalization wherein we can't describe the kind of life we have. Life expansion decreases due to many illnesses and diseases. It becomes unpredictable when we can't do anything but to face life as it is. Competitiveness among nations, tribes and even religion brings deep impact to our lives. Thousand of people lost their lives because of such conflict. Survival for poverty really a prime problem of human being. Million of people died because of have nothing to eat.
Now, is Komeni right of giving us a signal to move ahead and to strive hard inorder to survive from this vulnerable world? This is not advertising Komeni but it somehow gives us the lesson to be vigilant of our life.
Connect this message to our own distinctions and undertakings as individuals. As teachers for example, pamakotinka, value your responsibility of molding and teaching the young generation because perhaps time maybe too late for you to do it and you might regret after all. Do this while you are still in the position, while you are strong and while you have all the opportunities of doing it all.
The last line of Komeni's song says " Now is the time to reflect on. Ponder on and move fast". This is just a mere song of an ordinary moro artist but let us not forget great move and action start from an ordinary and simple plan.
GLOBAL MINDANAO SUMMIT
Just recently, the global sultanates summit was successfully done. Alhamdulillah, we thanks Allah for the success of the event, everything went smoothly with global summit in Mindanao on 10th and 11th December, 2010, HRH princess Aizian Utto Camsa said in Facebook.
The said summit was attended by the prominent royal Sultans and royal families around the globe, Malaysia, Indonesia, Brunei, Philippines and other well-known countries. The theme of the summit "THE CULTURAL PARACTICES EMBODIED IN THE UNIVERSAL DECLAIRATION OF HUMAN RIGHT, TREATIES AND CONVIENTION"
The convener of the that summit was the royal sultanate of Raja Buayaan Darussalam and the united sultanates of Baguinged Tawlan Darussalam, the event was hold in royal palace hotel in General Santos city, Philippine


POTRE ERLYNDA

In the name of ARTS and LITERATURE, Meranaos exceed on these. They have the Bayok and Darangen that until now are never been break their record in the entire country. The beautiful dances like Singkil, Fan Dance and Kapamalong malong are still have big contribution in Philippine culture. Every single matter of Meranao's life has its meaning and properly guided with Taritib and Igma.
Putri Erlynda is a symbol of undying Mranao songs, she poses and Talented in traditional folk song, support her and the other Mranao Talents
ALONGAN PISAYANAN TINTIK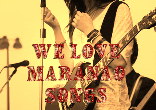 __________________________