POTRE MONALINDAO

Madait a kapumbantoe tano ko manga ONOR sa Ranao na ipangorao ami rukano si Potre Monalindao a bangsatano sa Ranao kaisa sukaniyan a mitiardi na mimbilingatao ko kapusumpada ko dadabitan o Iranaon na mananagontaman ko gii kisariat'n ko dikakulas o paparangayan o Mranao (We recommend Potre Monalindao for any traditional occasions in Ranao and for royal gathering)   
________________________ _______________________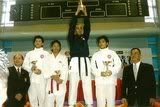 DATU REVIE S. SANI
Iranaon's Pride
Iranaons/Maranao are well-known for the aspects of Culture and arts, they gained more prominence in the field of martial arts when the MSU Karate Club successfully garnered three gold Medals and one silver in the 1994 first Philippine National Games – the first time Iranaon/Maranao gained these elusive awards in sports, and up to the present time the club still gaining good records.
In the name of Sport and Martial Arts, Iranaons/Maranao exceed on it and became more and more prominences when the young prince of Marawi in the good name of Datu Revie Saber Sani (son of Sultan Duma S. Sani and grandson of late Mamitua Saber, Radiamuda sa Marawi) won Champion in the international karate competitions like the 2003 8th karate games of the Adriatic in Italy, 2003 8th Czech open karate championship in Czech Republic, 2005 Asian Karate championship in Hong-Kong, China and the 23rd South East Asian Games (SEAGAMES). Datu Revie S. Sani is the first Iranaon/Maranao became member of Republic of the Philippine Team (RP-TEAM) for International Competition in the field of Karatedo, and present President of FIMAA Jeddah Saudi Arabia. The Iranaons/Maranao. would someday proven champion in the prestigious of the Olympics as my father's longstanding dream, Datu Revie said in his Interview.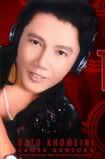 Pamakot Ka Sa Masa Emanto
A Song of a Moro Artist
The King of Moro Song Datu Komeni Bansuan lunched his new album with the new song "Pamakot Ka". It could really encourage and inspire each individual who would listen and internalize its deep meaning. Some of its line go this way " My friend, pamakot ka, know yourself. Pamakot ka while you are young. Know what is happening in this world and think of what you can do. Pamakot ka while still you are healthy and strong. Face your future, don't ever think you cannot make for God has given you all. Isn't he right in saying this so?
At this point of time, in this era of globalization wherein we can't describe the kind of life we have. Life expansion decreases due to many illnesses and diseases. It becomes unpredictable when we can't do anything but to face life as it is. Competitiveness among nations, tribes and even religion brings deep impact to our lives. Thousand of people lost their lives because of such conflict. Survival for poverty really a prime problem of human being. Million of people died because of have nothing to eat.
Now, is Komeni right of giving us a signal to move ahead and to strive hard inorder to survive from this vulnerable world? This is not advertising Komeni but it somehow gives us the lesson to be vigilant of our life.
Connect this message to our own distinctions and undertakings as individuals. As teachers for example, pamakotinka, value your responsibility of molding and teaching the young generation because perhaps time maybe too late for you to do it and you might regret after all. Do this while you are still in the position, while you are strong and while you have all the opportunities of doing it all.
The last line of Komeni's song says " Now is the time to reflect on. Ponder on and move fast". This is just a mere song of an ordinary moro artist but let us not forget great move and action start from an ordinary and simple plan.
GLOBAL MINDANAO SUMMIT
Just recently, the global sultanates summit was successfully done. Alhamdulillah, we thanks Allah for the success of the event, everything went smoothly with global summit in Mindanao on 10th and 11th December, 2010, HRH princess Aizian Utto Camsa said in Facebook.
The said summit was attended by the prominent royal Sultans and royal families around the globe, Malaysia, Indonesia, Brunei, Philippines and other well-known countries. The theme of the summit "THE CULTURAL PARACTICES EMBODIED IN THE UNIVERSAL DECLAIRATION OF HUMAN RIGHT, TREATIES AND CONVIENTION"
The convener of the that summit was the royal sultanate of Raja Buayaan Darussalam and the united sultanates of Baguinged Tawlan Darussalam, the event was hold in royal palace hotel in General Santos city, Philippine


POTRE ERLYNDA

In the name of ARTS and LITERATURE, Meranaos exceed on these. They have the Bayok and Darangen that until now are never been break their record in the entire country. The beautiful dances like Singkil, Fan Dance and Kapamalong malong are still have big contribution in Philippine culture. Every single matter of Meranao's life has its meaning and properly guided with Taritib and Igma.
Putri Erlynda is a symbol of undying Mranao songs, she poses and Talented in traditional folk song, support her and the other Mranao Talents